I have been neglecting my blog for a while, but only because my life has been so busy for the past couple of months! I have still been eating at great restaurants and drinking more than I should (some future reviews: Battersby, Eleven Madison Park, Mighty Quinn's, and then a lot of posts from our Napa trip, including: The French Laundry, ad hoc, addendum, Redd, Redd Wood, and all of the wonderful wineries we visited on our anniversary trip). For now, some photos of what I've been up to since my last post!
I celebrated my 30th birthday in Chicago with a Hello Kitty themed birthday party:
Sammy, Charley, and I hit the Hello Kitty pinata until all of the candy fell out (Ken and Flo thought it would be a good idea to do a Hello Kitty-themed birthday party…which was awesome!) Before I celebrated my birthday with Ken's family, I celebrated with David, Laura, and Ken at Eleven Madison Park:
David and I share the same birthday (he's two years older, in case you were wondering) and Eleven Madison Park was a great experience – with lots of desserts just for our special day!
We were in Chicago for my birthday because the day after, Angie and Nat were getting married:
We had a great time at her wedding and thought the Thai water ceremony was really special (you give them blessings while you pour water on them – we blessed them with twins, which was a common blessing that day!)
We came back to New York after Angie's wedding and hosted Sammy and Flo for a weekend; lots of good food (Joe Shanghai, cannoli's in Little Italy, Wicked, Dylan's Candy Bar, The Plaza, pizza, and Italian ice!):
The week after Sammy and Flo came to visit, we flew back to Chicago for a birthday party and ended up celebrating our one year anniversary a bit early at the hotel where we got married – champagne and Lou Malnati's, the easiest way to say 'I love you':
I had the opportunity to meet my friend's baby, Hayley, who is well versed in sign language and just the cutest baby ever:
And celebrated our anniversary a bit early with our wedding cake (the bakery that made our cake remakes it for your one-year anniversary so you don't have to freeze it):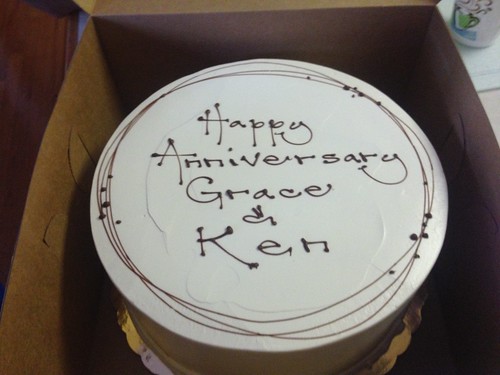 Almond cake with passion fruit curd, creme brulee, fresh raspberries and raspberry preserves:
And spent our actual first anniversary in Napa, enjoying wine, and attending a wedding:
More details on everything in the upcoming weeks, just be patient – I'll be back with more posts soon!