I love going out with the women I work out with and we planned a really fun night out over the winter – attending Queen of the Night at the Paramount Hotel. We purchased tickets after reading about the dinner/party/event in the NYTimes article because it sounded like something none of us have ever done before. Most of us had gone to Sleep No More (the same producers of this show) so we were up for the adventure.
The show starts with a cocktail hour where the bartenders create drinks that are all presented on a mirrored bar in the main room. None of them have labels and you're just supposed to take them; some have herbs, some are fruity, and some have a more savory component to them. While you're having cocktails, people walk around and take you to different areas of the hotel (similar to Sleep No More). We passed this preserved cheetah that was decked out in jewelry:
You eventually take your seats – you can either purchase general admission tickets or premium tickets that guarantee you a table together with the rest of your party (we had a mix up with our tickets and they graciously upgraded our tickets to the VIP experience). We sat down and the show started (and we sat next to Neil Patrick Harris and his husband!)
The show is very loosely based on Midsummer Night's Dream and has lots of intricate costumes like the Queen's Marchesa's dress:
The back of the Queen's opulent cape:
The show features lots of acrobatics:
Dancing:
And lots of muscular men dancing and jumping around:
Our table had wine glasses stacked very high and fruit, cheese and olives strewn about: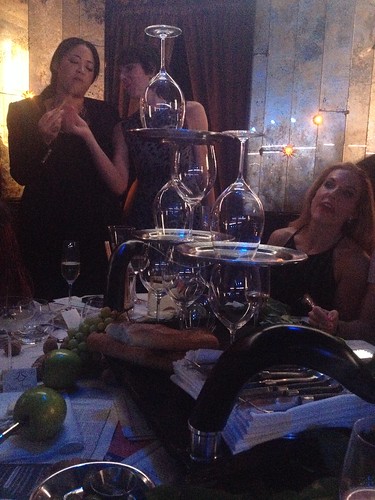 Everything is very chaotic (intentionally) – they make you clear your table very quickly and then an army of actors come out with different types of proteins. Some tables get served a cage of lobsters and corn, others get pork, and we got the beef ribs. The idea is that you'll talk with your neighbors and barter with them to get what you want:
While you're eating, the actors continue to perform:
When you are finished eating, they don't clear your plates, you just throw them into a large box (it looked like a freezer) that gets wheeled around the room:
The night ends with dessert and dancing; you can dance with your friends or some of the actors will pull you up for a quick twirl. They don't serve dessert at your table; instead, they serve opera cake by the spoonful and you have to request dessert by going up to the performer.
It was a really fun experience and definitely worth seeing. The crowd is different on the weekends (we went on a weekday, which I definitely recommend). It's great for a girls night or even a really fun date night!