Before the holidays, Christine, Stephane and I met up for dinner at Dieci, a Japanese tapas restaurant in the east village. We wanted to eat near union square because we were all coming from different parts of the city (and Christine was coming from Brooklyn) so Dieci seemed like it was the perfect location.
I've walked by the restaurant on multiple occasions but have never stepped inside and wasn't sure what kind of place it was until I looked it up online. The restaurant is absolutely tiny and the seating is also a little difficult to maneuver (there's a big horseshoe-like communal table that is attached to the kitchen so if you're sitting close to the kitchen, you don't have a lot of seating).
The restaurant has Japanese tapas so we started with the beef tartare with sea urchin, slow poached quail egg, smoked aioli:
And the potato gratin with uni:
For our main course, we shared the gnocchi with crab & cod roe cream sauce:
And the fettucine with creamy sea urchin sauce and calamari: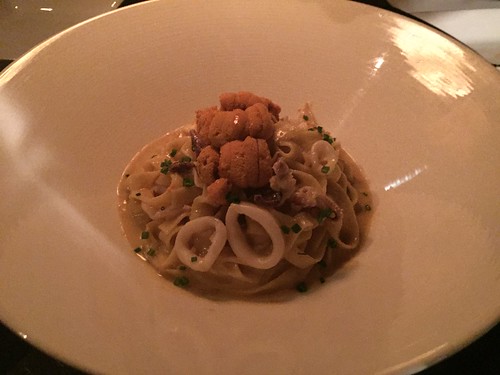 And the miso black cod with truffled mushroom risotto and poached egg:
Everything was prepared well, especially both pastas. I wasn't as big of a fan of the miso black cod, but I think by the time we had the pasta, we were already quite full.
For dessert, we ordered the earl grey creme brulee:
And the chocolate molten cake:
The meal didn't have anything I wouldn't order again and the service was also great. The restaurant is very small, but the food makes up for it. Stephane, Christine and I had a great time together and I definitely want to return to Dieci!