Back in 2010, I worked at Gilt City with three really great engineers – Christine, Baxter and Benny. The four of us spent a lot of time together and now that we've all moved onto other projects, we don't see each other as much. Christine moved to the other side of the US but luckily, she comes to visit New York a lot and we decided to get together during her last visit.
We went to dinner at Bo's Restaurant, which is a combination of local and New Orleans style food. They also have these lights in their main dining room:
We started with their housemade bread, which was served with deliciously salted butter:
We shared all of the dishes so we could try a little of everything. Their most popular dish is the fried alligator (so we had to get that), we got some savory beignets, and fish tacos:
The fried alligator tasted very earthy (not in a good way, although I think the only good earthy is from corn/beets). Everything else was okay – I didn't love any of the appetizers (except the bread!)
We also ordered scallops with rice noodles:
And their buttermilk fried chicken: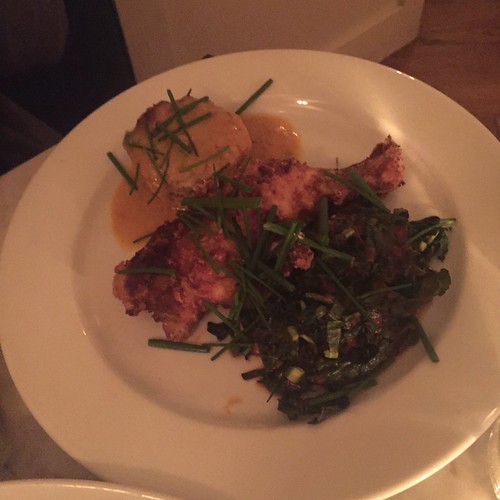 For dessert, we ordered the beignets that came with their espresso ice cream:
All of us at dinner:
Even though the food wasn't that great, the company was – we caught up on all of our adventures since leaving Gilt City (Christine and I started on the same day in 2010, Baxter started two weeks before us, and Benny had been at Gilt before all of us! Can't wait to see all of you guys again soon.